【Event Highlights 01】2022 ING Earth Day Forum in New Taipei: From SDGs to ESG
2022-05-02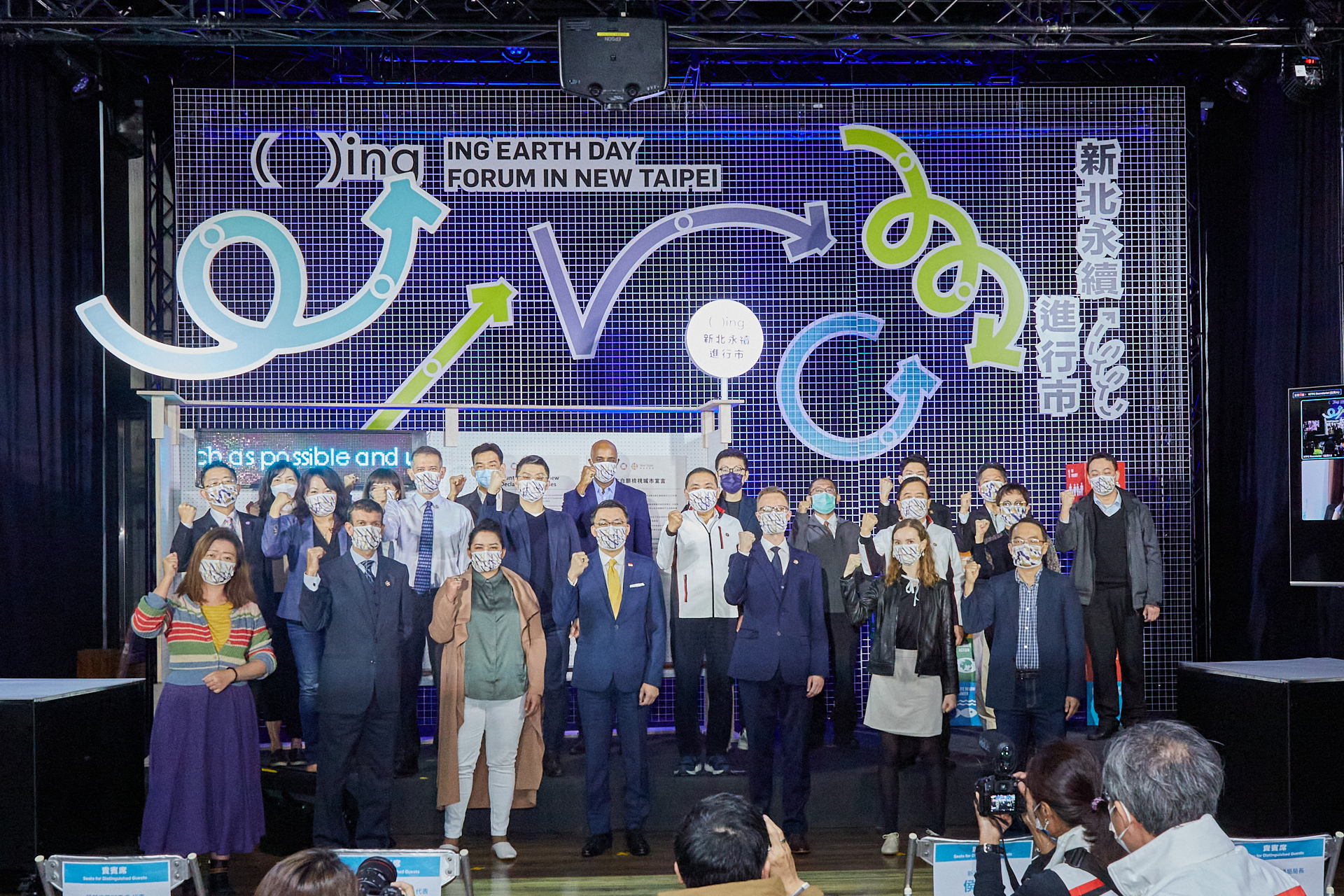 The "2022 ING Earth Day Forum in New Taipei" held by New Taipei City on April 21 focused on sustainable topics, including "low-carbon mobility" and "SDG City Leaders." More than 20 speakers attended the Forum online and offline globally from 4 states, 6 time-zones, 10 countries, and 15 cities as well as various international organizations, including the International Telecommunication Union (ITU), the United Cities and Local Governments Asia Pacific (UCLG ASPAC), Global Social Economy Forum (GSEF), Google, Mobility In Harmony (MIH), and Japanese think tanks.

It was also the first time for the ITU, City of Lahti, which is known as the green city of Europe, and City of Dangjin, which succeeded in energy transformation, to share their own sustainable actions to Taiwan. Following New York's initiative to invite cities worldwide to sign the "New York City Voluntary Local Review (VLR) Declaration," New Taipei City invited chambers of commerce and enterprises to sign the "VLR Declaration for Cities" at the event, demonstrating the collaboration between the government and the industries on the path to sustainability.
Mayor Hou Yu-Ih Appreciated Global Partners' Participation in the Implementation of SDGs and ESG
Mayor Hou stated that New Taipei City began to take actions and align with the international community in promoting sustainable development four years ago and has published two VLR reports and held multiple international forums since then. In response to the United Nations sustainable development goals of reaching net zero emissions globally, New Taipei City hopes to achieve comprehensive bus electrification by 2030 and incorporate zero-carbon design concepts into urban renewal and major development plans.

The "VLR Declaration for Cities" initiated at the "2022 ING Earth Day Forum in New Taipei" was signed by 11 institutions, including AmCham Taiwan, Go Smart, Wemo, GoShare, iRent, and YouBike, with more than one thousand enterprises backing the city government's goal to move from SDGs to ESG. Mayor Hou emphasized that "energy conservation and carbon reduction" is no longer an issue of public welfare but an issue of survival! New Taipei City will actively confront challenges with the world in the sustainable, net zero, and post-pandemic era. Like the theme of this forum "ING," New Taipei is a city that is implementing and will continue to implement SDGs.



Internationality x City x Industry: Interdisciplinary Collaboration to Promote Sustainability
The Earth Day Forum was attended by sustainable partners around the world, including Google, International Telecommunication Union (ITU), Kanagawa Prefecture, City of Brisbane, City of Cincinnati, City of Cupertino, City of Alhambra, City of Dangjin, City of Poznań, City of Makati, United Cities and Local Governments Asia-Pacific (UCLG ASPAC), MIT Media lab City Science Group, Mobility In Harmony (MIH), City of Utrecht, Miami-Dade County, City of Helsinki, City of Lahti, County of Starnberg, City of Kitakyushu, Institute for Global Environmental Strategies (IGES), Global Social Economy Forum (GSEF), City of Helsinki, City of Lahti, Kanagawa Prefecture, and City of Dangjin. (in order of appearance in the Forum)

Yao Ching-Yu, Director General of the Secretariat of New Taipei City Government indicated that it was the second year for New Taipei City to hold the Earth Day Forum. This year, it highlighted 8 mayors joining the Forum online in person as well as the brilliant speeches given by the world SDG leader.



Green Energy x Smart Technology x Sharing x Sustainability: Development of Low-Carbon Sustainable City
Chung Ming-shi, Director General of the Transportation Department of New Taipei City Government shared that green energy is not only a solution to climate change but also a drive to sustainable development. New Taipei City Government will continue to proactively promote green transportation and clean energy for environmental protection in the future. In addition, New Taipei City will introduce four new concepts, namely green energy, smart technology, sharing, and sustainability. In order to construct a humanity transportation environment, it will actively promote the "three-ring, six-line" mass rapid transit system as well as achieve the comprehensive electrification of 1,400 buses and a total number of 500 million public bike uses by 2030. With the aim to make New Taipei a low-carbon sustainable city, it is expected that CO2 emissions will be reduced by 160,000 metric tons, equivalent to planting 13,000 trees during 2021 to 2030.



Sustainability in Action: Taiwan's First ESG Dialogue, Joining Efforts from the Public and Private Sectors
For New Taipei City, the idea of sustainability is not a slogan to chant but what needs to be put into practice. More diverse and innovative sustainable actions will be initiated by exchanges and sharing at the Forum. A series of videos and Podcast programs will be released afterwards, and New Taipei City will participate in Helsinki's Sustainable Cities Discussion Forum in May, IGES's Webinar on VLR in June, and the NGO Climate Equity Collaborative's Public–private partnership Roundtable in August, allowing the sustainable actions to keep moving forward. To this end, New Taipei City Government established an "ESG Dialogue" platform on its SDG official website which provides various services, including event promotion, speaker matching, venue, and ESG news and Op-ed, sincerely inviting more partners to explore new momentum to Taiwan's sustainable development and work together towards the next stage.







Visitor:207